:HOME> News > HQ News
HQ News
Governor of Hebei Province Xu Qin met with Chairman of Huaqiang Group Chairman Liang Guangwei


CreateTime:2017/5/16 0:00:00


On May 3rd, Xu Qin, Deputy Secretary of the Hebei Provincial Party Committee and Provincial Governor of the Province, met with Liang Guangwei, Chairman of the Huaqiang Group in Shijiazhuang City. They have thoroughly discussed the issues of investment and construction in Hebei Province, especially focused on the current Huaqiang projects in Hebei and the future plan of participating in the construction of Xiongan New Area. Governor Xu and Huaqiang Chairman Liang have reached an agreement on strengthening the cooperation in investment.
?xml:namespace>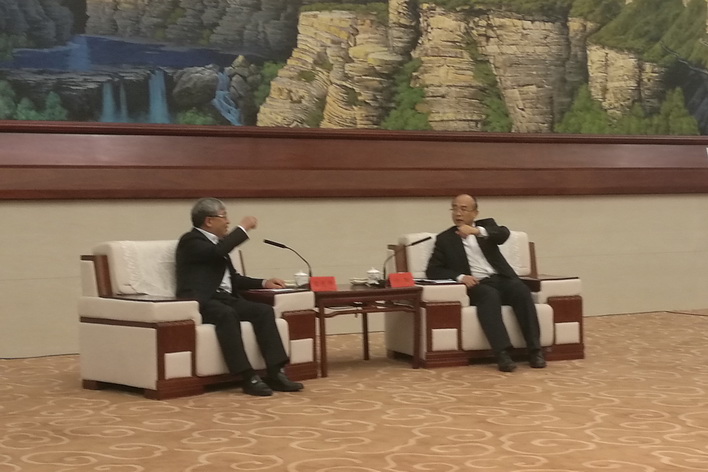 After briefing the basic situation of the group, Huaqinag Chairman Liang mainly reported the progress of Huaqiang projects in Hebei Province and the next 3 -5 year plan. Since 2011, in Hebei Province, with the great support of Hebei government, Huaqinag Group actively participated in the Hebei economic construction, and the total investment is reached 10 billion yuan.
Liang Guangwei said that after the historic decision-making of the Party Central Committee and the State Council to set up Xiong'an New Area, Huaqiang Group is determined to take the development and construction of Xiongan New Area, even Hebei Province as the top priority of the Group 's work. Based on the in-depth market research, the group is planning to invest 6 to 10 projects in Hebei Province.
Governor Xu Qin, on behalf of the Hebei Provincial Party Committee and the provincial government, extended a very warm welcome to Huaqiang Chairman Liang Guangwai. He fully affirmed the achievements Huaqiang has made in the investment and project construction in Hebei Province, and highly praised the group as "one of the most successful enterprises to achieve transformation in Chinese electronic information industry".