:HOME> News > HQ News
HQ News
Shenzhen Mayor Chen Rugui Visited Huaqiang Holdings


CreateTime:2020/6/10 0:00:00


On June 10th, Chen Rugui,Deputy Secretary of the Shenzhen Municipal Party Committee and Mayor came toHuaqiang Holdings and visited the exhibition hall of Huaqiang Fantawild. ZengPai, Secretary-General of Shenzhen Municipal Government, Jia Xingdong, Directorof the Municipal Bureau of Industry and Information Technology, and HuangXiangyue, Chief Executive of Nanshan District, joined the visit. Huaqiangleaders Zhang Hengchun, Li Shucheng, Hu Xinan, Liu Daoqiang also accompanied thevisit and made a brief report on Huaqiang's development.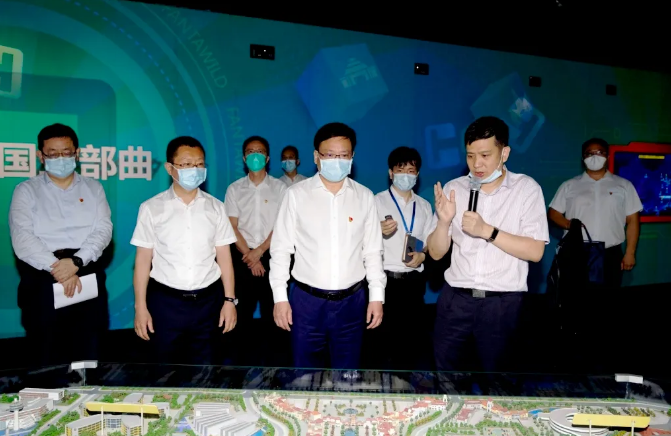 Mayor Chen Rugui learned indetail about the Huaqiang Fantawild animation and theme park series products,core competitiveness and brand establishment. Mayor Chen fully affirmedHuaqiang's cultural and technological integrated development model of tellingChinese stories with high-tech means. He pointed out that Huaqiang Fantawild isnow a leading cultural enterprise in Shenzhen. It has demonstrated strongcompetitiveness in creative concepts, R&D and manufacturing, and operationmanagement. It has made positive contributions to the development of Shenzhen'scultural industry as well. He hoped that Huaqiang Fantawild would furtherinnovate the way of cultural inheritance and dissemination, dig deeper into thecultural connotation of Shenzhen's culture and Cantonese opera, in order to producea batch of popular films and television boutiques, and promote the presentationof traditional culture.
Meanwhile, he hoped thatHuaqiang would use the latest technology to launch a theme park projectfeaturing special movies and themed performing arts in Shenzhen, allowingShenzhen residents to experience the latest cultural technology development.