:HOME> News > HQ News
HQ News
Huaqiang Fantawild Theme Park Project "Qu Yuan" won the International "Outstanding Achievement Award"


CreateTime:2020/11/19 0:00:00


OnNovember 19th, local time in the United States, the International ThemeEntertainment Association (TEA) announced the list of the 27th TEA Awards. Thelarge-scale live-action special effects theater project of the JingzhouFantawild Oriental Heritage under the Huaqiang Fantawild Group's,"QuYuan", won the 2020 "Outstanding Achievement Award".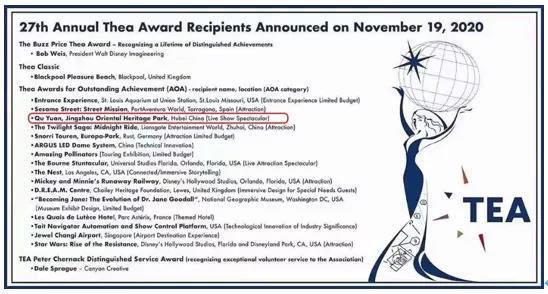 Itis reported that the Themed Entertainment Association (TEA), established in1991 as a non-profit international alliance, is currently the mostauthoritative organization in the global entertainment industry. The annual"TEA Awards" ceremony held by the association has become a world-famousmajor event and is known as the "Oscar" in the global theme parkindustry.
Sincethe opening of the Jingzhou Fantawild Park in September 2019, "QuYuan", as one of the ace projects, has continued to gain high popularityand high reputation, attracting many domestic and foreign tourists toexperience it. "Qu Yuan" takes the great poetry works created by thegreat poet Qu Yuan as the core, telling Qu Yuan's life experiences with the world'stop amusement technology. The high-tech stage and real-life performances in theproject are perfectly combined. While brilliantly interpreting the life of thegreat patriotic poet Qu Yuan, it also demonstrates the magical charm of Chuculture in all directions. The project has now become another model of theintegration of domestic cultural and tourism.
Inthe future, Huaqiang Fantawild will continue to root in the fertile soil ofChinese culture, absorb the essence of Chinese civilization, use moderntechnology to empower traditional culture, and tell the world a good"Chinese story".