:HOME> News > HQ News
HQ News
Jingzhou Delegation Visited Huaqiang Group


CreateTime:2018/9/4 0:00:00


On September 2, the Jingzhou delegation visited Huaqiang Group. Cui Yonghui, deputy secretary of the CPC Jingzhou Municipal Committee, and Zhang Hengchun, president of Huaqiang Group, held a meeting and made exchanges on in-depth cooperation. Peng Xianrong, deputy secretary general of the CPC Jingzhou Municipal Committee, and Liu Daoqiang, CEO of Shenzhen Huaqiang Fantawild Holdings Inc together with other related officials and staff attended the meeting.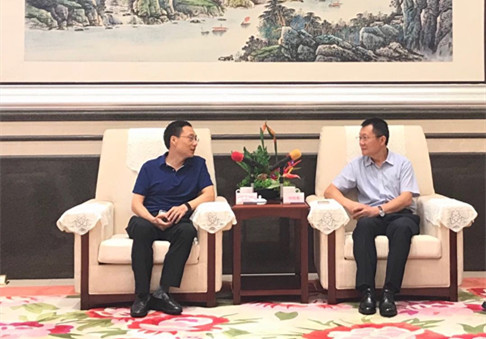 President Zhang welcomed the visit by Jingzhou delegation on behalf of Huaqiang Group and briefly introduced the basic situation of the Group, with a particular emphasis on the achievements of the "culture+technology" sector. Cui displayed the developments of Jingzhou and spoke highly of the innovative pattern by Huaqiang Group that features telling cultural stories with high-tech means.
Cui pointed out that Jingzhou, a riverside city where ancient cultures and modern civilizations meet and integrate, is rich in unique tourism resources and solid cultural deposits. Currently, Jingzhou is in the key period of transformative developments and accelerating revitalization. Recent years, both parties complemented each other's advantages and joined hands in the construction of the "Jingzhou Theme Park of Chinese Historical and Cultural Inheritance", with Phase I project having made smooth progress. Both parties have entered into a cooperation agreement on the Phase II project called "The Road to Revival". The projects will surely enrich the cultural tourism industry of Jingzhou and lay a solid foundation for the mutual cooperation and win-win of two parties in the future. He expressed hopes of continuing to expand and deepen the cooperation space and further promoting the economic and social developments of Jingzhou.
President Zhang said, "Huaqiang Group is willing to draw on its advantages, positively push forward Huaqiang Fantawild programs in Jingzhou and make continued contributions to Jingzhou's developments by conducting deep participation in its economic construction."