:HOME> News > HQ News
HQ News
ShenzhenGuangming Tech and Innovation Incubator Officially Launched in HuaqiangCreative Park


CreateTime:2020/7/31 0:00:00


On July 31, the first tech and innovationincubator in Guangming District was officially unveiled in Huaqiang CreativePark. 14 high-quality Hong Kong and Macao projects passed the approval forentry, and 5 companies including Thunder Data and Xinli Technology officiallyentered. Du Ling, Member of the Standing Committee of the Shenzhen MunicipalParty Committee and Head of the United Front Work Department, Wang Hongbin,Secretary of the Guangming District Party Committee, Fan Kun, Executive ViceMinister of the United Front Work Department of the Shenzhen Municipal PartyCommittee, Sun Nan, member of the Shenzhen Science and Technology Association,Lai Feng, deputy secretary of the Shenzhen Municipal Committee of the CommunistYouth League, Qin Jingteng,member of the Standing Committee of the GuangmingDistrict Committee and United Front Work Department, Zhang Zongping, deputyexecutive of Guangming District People's Government, and Li Shucheng, presidentof Huaqiang Holdings, attended the ceremony.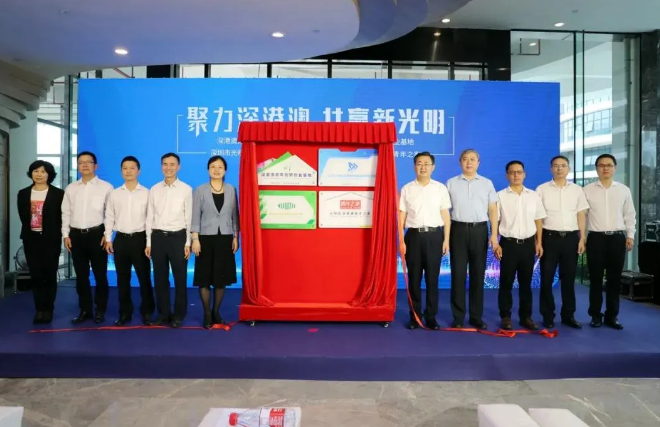 HuaqiangCreative Park is located in the central area ofGuangming distrct, with a construction area ofapproximately800,000 square meters. The first phase of the park was opened in October 2019.The park is committed to providing services for R&D, exhibition andtrading, technology finance, supply chain logistics, and government consulting
In2019, Guangming District launched a three-year action plan to build a base forthe transformation of scientific and technological achievements in Shenzhen,Hong Kong and Macau, and clarified the supporting policies for the developmentof talents from Hong Kong and Macau to Guangming.
ShenzhenGuangming tech and innovation incubator landed in the Huaqiang Creative Park,which will further promote the transformation of scientific researchachievements and help the Guangming Science City become the core bearing areaofthe comprehensivenational science center and an important engine for the Guangdong-HongKong-Macao Greater Bay Area.