:HOME> News > HQ News
HQ News
Huaqiang Group Wins Top 100 Information Technology Enterprises Honor for 32 Consecutive Years


CreateTime:2018/8/9 0:00:00


Recently, the 2018 China Information TechnologyEnterprises Release conference, sponsored by China Information TechnologyIndustry Federation, was held in Changchun, northeastern China' Jilin Province.Approximately 500 people attended the conference, including related leadersfrom Ministry of Industry and Information Technology and representatives fromrelevant industry associations, organizations as well as media. The 2018 Top100 Information Technology Enterprises List was announced at the conference.Notably, Huaqiang Group entered this list for 32 consecutive years and ranked36ththis year.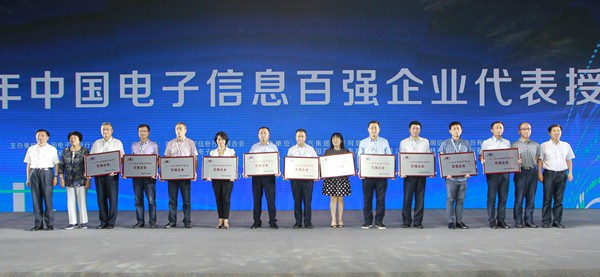 The award evaluation process integratessuch indicators as candidate enterprises' scale, performances, R&D,cross-national operations, strategic transformation and responsibility senseand so on in a comprehensive manner and through weighted calculation. Accordingto the data, new Top 100 enterprises enjoyed a larger overall size and realizedthe main business revenues worth 3.5 trillion yuan in total, a 16.7% increaseyear-on-year. The total assets reached 4.4 trillion yuan, a 10% increasecompared with last year. Top 100 enterprises have become major forces that leadthe industrial transformation and update and enable the whole industry tobecome strong from large-scale, functioning as the wind indicator of China'information technology industrial development trends.
Huaqiang Group, based on informationtechnology intelligent manufacturing and high-end services, successfully builtthe "Huaqiang Electronics World", "www.hqew.com","China Electronics Market Price Index" and "Huaqiang North International MakerService Center" and other brands by relying on big data, Internet of Things ande-commerce. Recent years, Huaqiang Group further accelerated the industrialintegration of components and parts distribution and released vigor through mergerand acquisition. It firmly established its leading position in the industry bygradually building the e-commerce service platform and innovation andentrepreneurship service platform for integrating industrial chain resourcesand merging online and offline services.